Common House Gecko
The common house gecko (Hemidactylus frenatus) is an unmistakable sight and sound throughout much of tropical Asia. Remarkably well adapted to human habitations where it easily climbs even the smoothest of surfaces, this nocturnal reptile hunts for insects that tend to congregate near light sources. It usually hides during the day. Its large and powerful eyes allow the animal to see any potential threat from a safe distance and move away in rapid if somewhat clumsy movement. The ability of a gecko's feet to adhere to a variety of surfaces is well documented and the vocalisation it produces, the loud "tchak tchak tchak" sound, often heard during the stillness of the steaming hot summer nights, is undoubtedly one of the aural symbols of tropical Asia.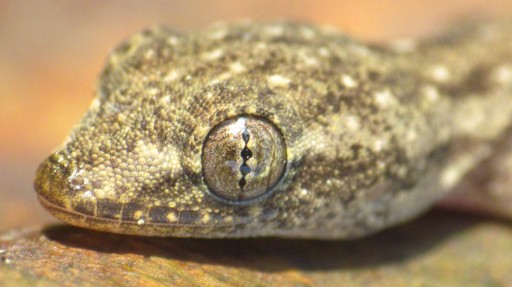 Adult geckos can measure up to 13 centimetres, but the one on these photos is a baby, barely two centimetres from head to tail. I spotted it on the lawn this morning and managed to chase it up a stone where it rested graciously for a minute or two while I was taking these pictures. As I discovered, photographing baby geckos is a lot easier than trying to capture adult ones which tend to run to safety at the first sight of a human. The sun was out too and although it brought out the lizard's skin texture nicely, it also forced its eyes to "close". The eyes of geckos are known to be extremely sensitive and even able to discriminate between colours under dim moonlight – an ability that the human eye lacks.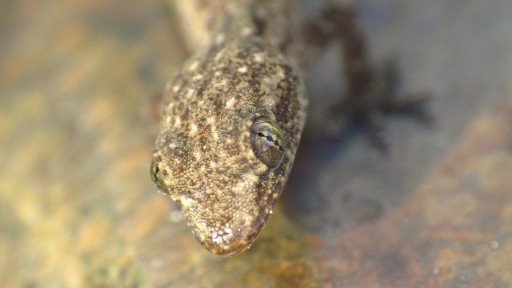 The common house gecko is widely distributed throughout Asia – from southern India, south-east Asia and southern China, through to Taiwan, Philippines and Indonesia, and as far south as Papua and northern Australia. Thanks to ships, it has also migrated to other parts of the world where it adapted exceptionally well, sometimes even displacing some local gecko species. The common house gecko is now found in many parts of the world, including Africa, the Americas and a number of Pacific ocean islands.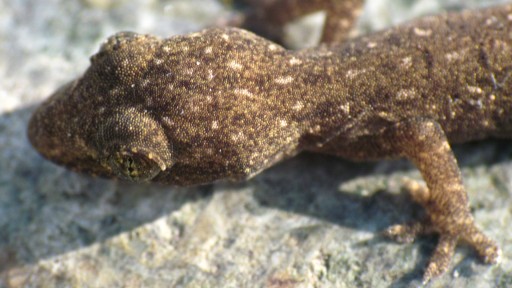 Here in Taiwan this gecko species is known as 疣尾蜥虎 (yóu wěi xī hǔ), with the four characters representing "wart", "tail", "lizard" and "tiger". Besides the common house gecko, eight other gecko species are represented in Taiwan; these include two endemic species – Kikuchi's gecko (Gekko kikuchii) and Yami scaly-toed gecko (Lepidodactylus yami). Both of them are only found on Orchid Island, about 60 km south-east from Taiwan.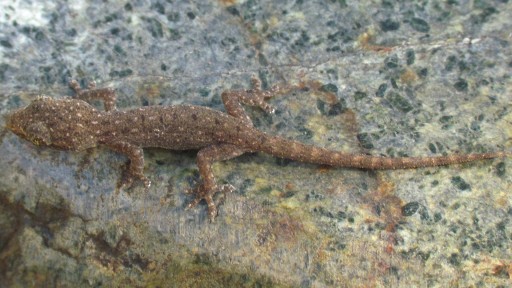 (This page has been viewed 1012 times.)