Swinhoe's Japalura
It is always a pleasure to learn that a species of animal frequenting your backyard is a unique one, not found anywhere else in the world. Swinhoe's japalura (Japalura swinhonis) is a species of lizard endemic to the island of Taiwan. And what a stunning animal it is! It's mane scales give an impression that it wouldn't be out of place in a jurassic park and although it is certainly no dinosaur, this particular species is reportedly the largest of all japaluras, reaching up to 28 centimetres. It can also adapt to the environment by changing its body colour. As is often the case in the nature, the male is more beautiful than the female, clearly distinguishable by a yellow stripe that graces the two sides of its otherwise brown body.
Besides being an attractive lizard to look at, the animal's behaviour is also very interesting to observe. The Swinhoe's japalura is well adapted to life around human habitations and, unlike most other lizard species, this particular one does not flee at a first sight of a human being. On the contrary, it often seems to be intrigued by the presence of a large mammal as it curiously observes the intruder by shifting its triangular head and moving its large eye balls. There were even some cases when the lizard allowed me to briefly touch its skin, before eventually escaping to safety. And it can run surprisingly fast on most surfaces. It can also show signs of aggression by enlarging its throat bag and, rather comically, performing an action resembling push-ups.
The photos below, taken over several years in and around Taitung, give an indication about the impressive versatility of the Swinhoe's japalura. Whether on dry leaves, vertical walls, tree branches or even washing lines(!), this stunning lizard can run, jump, change colours and generally entertain any inquisitive observer.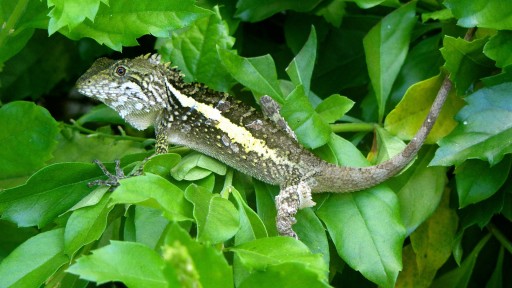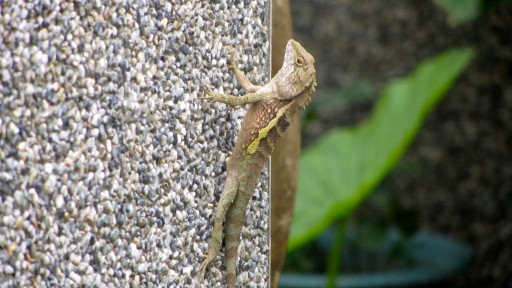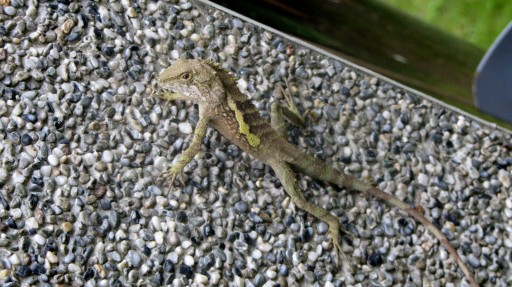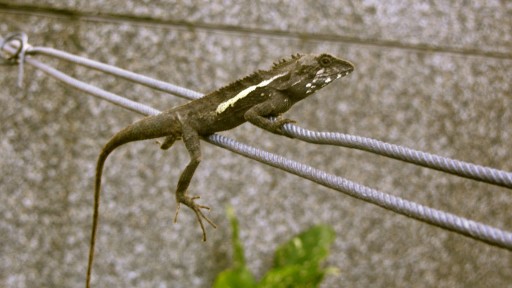 (This page has been viewed 626 times.)