Victoria Amazonica Water Lily
The tropical world is filled with incredible plants, some quite astonishing in shape, colour, size and behaviour. One of the more extraordinary among them is Queen Victoria's water lily (Victoria amazonica). As the flower's latin name suggests, it originates in the Amazon region, but it has since spread to many parts of the tropical world where it is often cultivated in botanical gardens and other large outdoor bodies of water. It was even grown successfully in England, in the 19th century, in a pool heated by coal-fired boilers. The large white flower was then presented to Queen Victoria and named in her honour.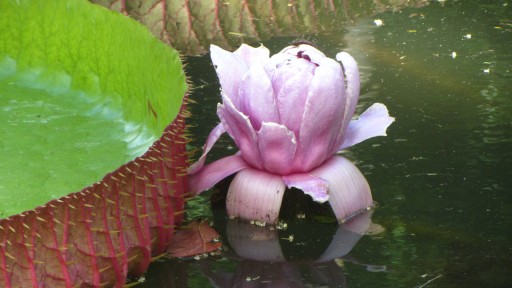 Victoria amazonica is the largest of the Nymphaeaceae family of water lilies. The flower can be up to 40 centimetres in diameter, while the submerged stalks can reach 8 metres. Its large tea-trey shaped leaves that float on the water surface can attain more than two metres and are said to be able to support a small child, although one is more likely to spot a water bird standing on a leaf while looking for an easy prey. These huge leaves take just a few hours to unfold from what resembles a floating wrinkled ball. The flowers don't last long – they emerge as white blooms one day and die as pink ones just a day later.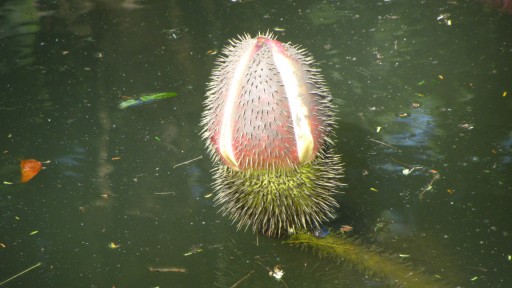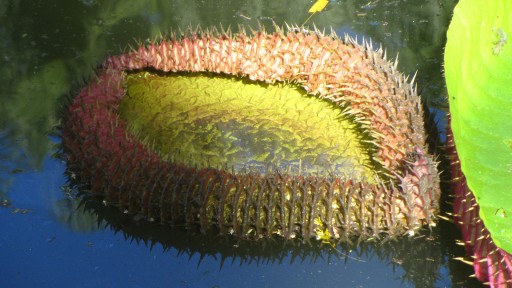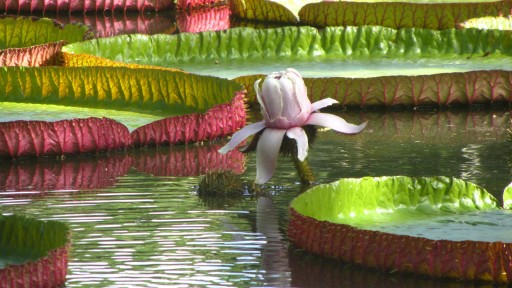 The photos in this article were taken in the Sir Seewoosagur Ramgoolam botanical garden in Pamplemousses, Mauritius. Started back in 1735, this paradise for botanists and lovers of tropical nature is one of the most reputed botanical sanctuaries in the world. Over the centuries several well-known French and English horticulturalists imported tropical plants from all over the world and cultivated them in this retreat in the centre of the island. Today it represents a truly diverse universe of tropical flora and a walk through these amazing gardens is an excellent way to see some of the world's most unusual and fascinating plants in one place.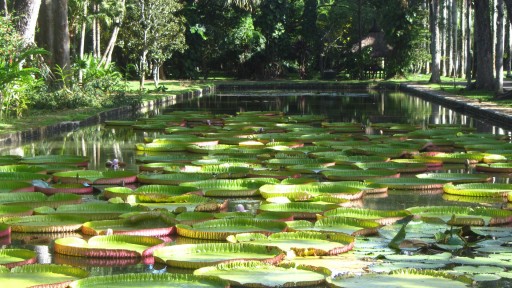 (This page has been viewed 631 times.)