Daylilies and Golden Needles
When a friend of mine suggested a weekend trip to Chike mountain (赤科山) in southeastern Taiwan's Hualien county to check out the region's famous daylilies, I was under the impression that we were going to see wild flowers growing freely in the area. Once on the spot, however, it became clear that these beautiful perennials, called orange daylilies (Hemerocallis fulva), are not only great to look at, they are also a sought-after delicacy known locally as "golden needle flower" (金針花). As such, the plant is commercially farmed and harvested for food. Still, in bloom the densely planted flowers resembling a thick orange carpet is a spectacle that attracts busloads of tourists from faraway counties of the island.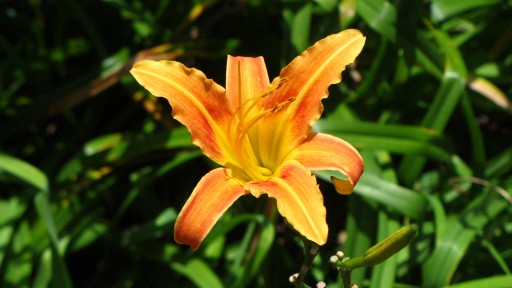 The orange daylilies bloom from late July to early October (with the peak season being August and September), so we may have arrived a little late for best viewing. But at least we escaped the crowds and still had the opportunity to see (and taste) this season's fresh produce. We ate them deep-fried, but they can also be enjoyed in a soup, tea or even as a flavour of an ice cream (unusual, even if not particularly tasty, in my opinion). During the season they are usually eaten fresh, but some of the harvest is also sun-dried and preserved for later consumption (see the photos below).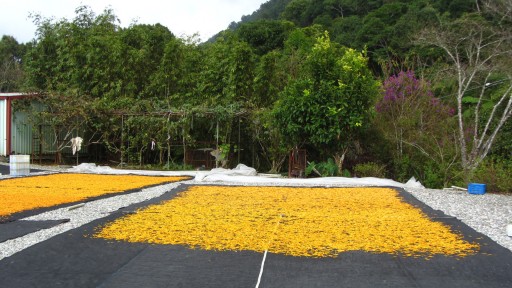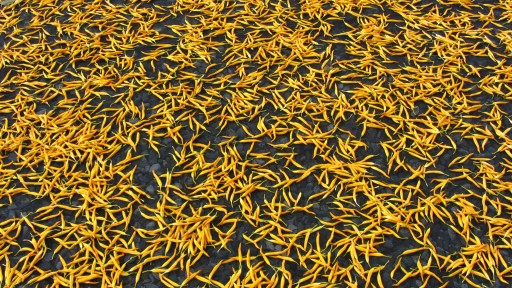 Besides the orange daylilies, some of the farmers cultivate a more yellow variety called "lemon daylily" (Hemerocallis lilioasphodelus). These are somewhat less spectacular when compared to the golden colour of the orange daylilies, but once on a plate the visual difference isn't as pronounced. According to one of the farmers we spoke to, these yellow ones are native to Taiwan, while the orange variety was originally imported from Malaysia. Although naturally found in the tropics, the daylily is reportedly a remarkably adaptable plant and it is capable of surviving even in cold zones where severe frosts occur in winter.
(This page has been viewed 913 times.)