Fire Dragon Fruit
One of the more unusual fruits one often comes across while travelling through tropical Asia is the dragon fruit (Hylocereus undatus). This attractive-looking produce grows on a vine belonging to the Cactaceae family which seems somewhat out of place in the lush tropical vegetation of south-east Asia. Indeed, the plant originates in central America where it is known as "pitahaya". The fact that it has been cultivated so successfully in many parts of Asia (including Cambodia, Indonesia, Malaysia, the Philippines, Sri Lanka, Vietnam, Thailand and Taiwan) shows its remarkable ability to survive in extreme conditions – from dry desert-like environments to tropical rain forests.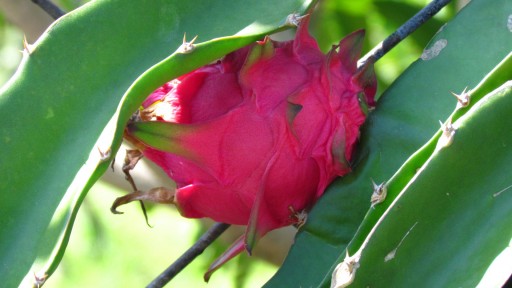 Here is southern Taiwan the fruit is cultivated on large commercial farms, where it is usually grown on special wooden structures to give the cactus a chance to climb and develop. But many private houses with gardens also include this prickly vine as part of their home-grown produce, especially on fences. Personally, I don't find the cactus with its haphazard branches particularly attractive, but once the skin of the fruit turns bright red, it does give a much more favourable impression.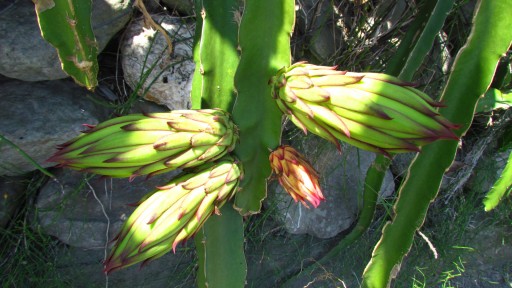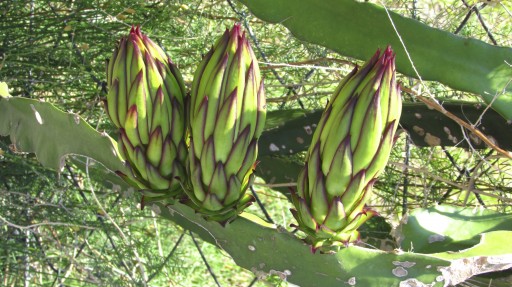 In the Chinese-speaking part of Asia the fruit is called 火龍果 (huǒ lóng guǒ) which literally means "fire dragon fruit". It is easy to see why the Chinese call it that way and why it has become such a popular fruit in this part of the world. With red being a lucky colour and dragon a lucky animal, the dragon fruit is often perceived as auspicious food. On a more practical note, it also has a reputation of being an excellent natural remedy for constipation.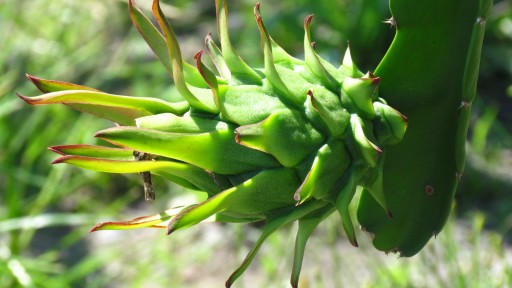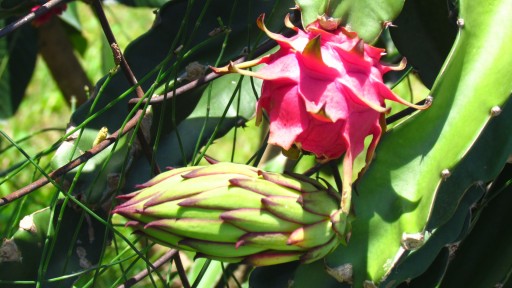 With all the visual attractiveness of the dragon fruit, one can easily imagine the rich taste of the flesh, but this is when some will probably be disappointed. The taste is rather bland, with only the tiny black seeds providing a slightly acidic flavour. Still, it is refreshing, especially in hot weather. On the nutritional side of things, the dragon fruit is a rich source of vitamin C and iron, and it contains virtually zero amount of fat.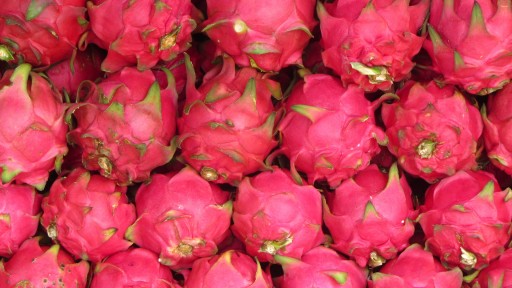 There are three varieties of dragon fruit. Besides the above-mentioned Hylocereus undatus (red skin with white flesh), there is also Hylocereus costaricensis (red skin with red flesh) and Hylocereus megalanthus (yellow skin with white flesh). Only the first two are grown and sold in Taiwan. One interesting curiosity from the island – the juices of the red-flesh variety are used as ink to stamp certain traditional cakes. So if you visit Taiwan and try one of the "stamped" local cakes, you don't need to worry – the red "ink" is perfectly edible and completely harmless.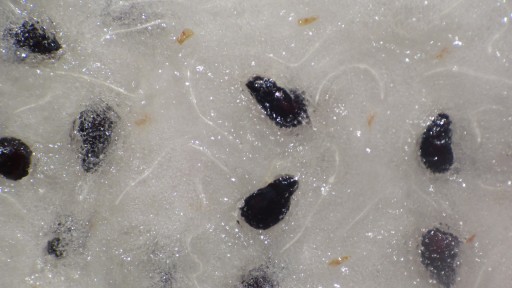 (This page has been viewed 1722 times.)